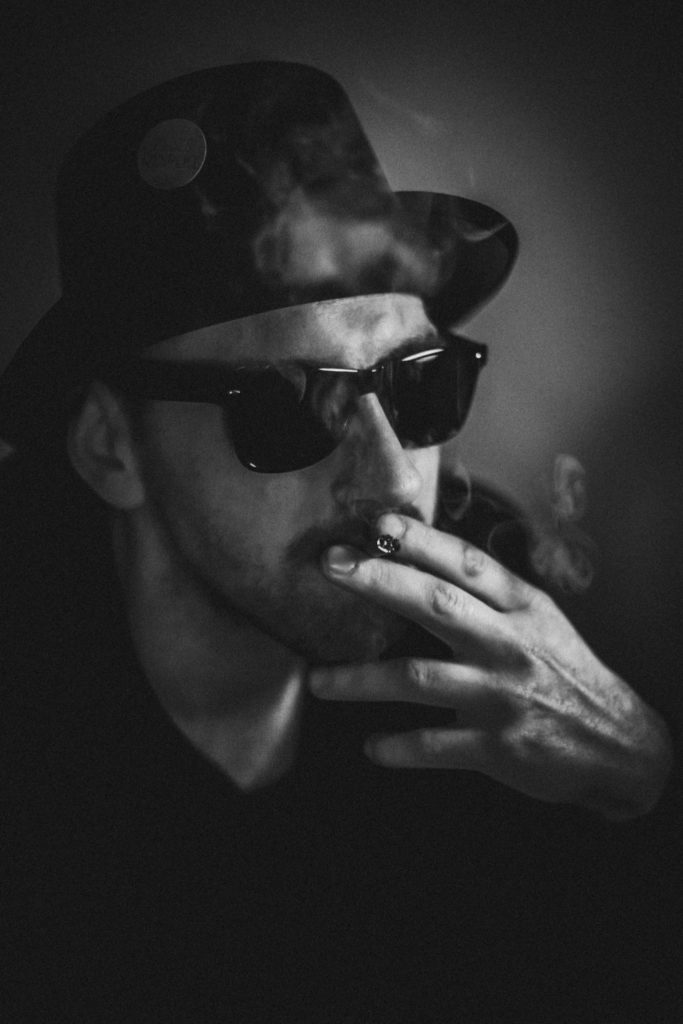 Chamælius
I, Chamælius, aka Florian Jothe, had my artistic birthday on March 28th, 2015.
My colleague Dennis La Rosa, among others, brought me to the Chamæleon as a logo, who took me to his friends after partying. It wasn't always the same people and locations where we dined, but I always got along very well with his friends and it seemed as if I had known them all for years. At some point the day came when he didn't even see me among his people right away & then said to me: "Shut up Jothe, that's not true, you're still here, how awesome. Dude, you are already behaving mega assi horny, like Chamæleon !! You have only been here for a short time & everyone thinks you haven't done anything else in the last few years. Boy, you are awesome, changeable & adapt to the situation just so well !! I celebrate you hard for it !! "
What this friend described is true! I love listening to cross-genre music, enjoying being part of it – living it. Whether Psytrance, Dark, DnB, Techno, Downtempo, German language singing, etc. – I love & live this biodiversity, otherwise I would not have met all of these wonderful people.
Through new acquaintances and the inner call to discover more, I slipped into the Hamburger & Lübeck techno, as well as drum & bass scene in 2014. It was an easy start for me because I was interested in the event industry from an early age and always wanted to know what it was like behind the scenes and how much work was behind it. Inspired and driven by All Strange & D. La Rosa, the musical path to electronic music opened up for me – the first collectives & labels whose event I attended were Rappelkiste, Maximal Liebe, Tach & Nacht in the locations Lost & Found, Wasserschaden, MX Bar and the Waagenbau In 2015 I got to know the bulwark and its community and was immediately hooked by them. In the same year I also got to know Bernd Liebwin, Steven Haß & Stefan Seelgen and so I now immersed myself even more in the scene and my interest increased even more. Above all, I noticed what kind of bright minds you can get to know in the scene.
In 2015 the series of events "Sinus" began, which I regularly attended and got into the drum & bass scene through a really good friend. In 2016 I was very connected to the Bollwerk community, as it kept inspiring me and I after each Event drove home with lots of new ideas. A good friend of mine once said the following in the morning around 8 o'clock over beer and schnapps: "We should all set up many small companies and work together. The many small sprockets that then rotate and mesh together result ultimately a great bulwark, which is consequently able to really implement something, to change something. Alone we are nothing, but together we are simply everything. "(Peter Gœtte, Bollwerk Closing-Endrave 2016)
With my new job as warehouse keeper / operator, I suddenly had the opportunity to offer merchandise to the scene at fair prices. That was the starting signal for me to want to do more in the area of merchandise.
In 2017 and 2018 I hung around a lot in Hamburg and Lübeck's scenes. Got to know Hafenklang, the Gængeviertel and the South Pole, as well as the people behind it, with their ideas, concepts and projects to promote and preserve the cultural scene. I learned which projects emerged from the scene and are being funded.
At the beginning of 2019 I started planning the merchandise concept and the first interested parties were Bass Rabbit Recordings & Sinus Hamburg. In mid / end of 2019 I started implementing the concept and in 2020 I helped others through my support or inspired them to finally found their own company: "Bass Rabbit Racordings, Anda Ahrens – Photography, Sinus Recordings". Since July 4th, 2020 I've been part of the collective "Sinus Recordings" and so-called "Head of Merchandise" at the record label.
How do I say: "Be changeable, flexible & try something new"
Soundcloud
Facebook
Instagram